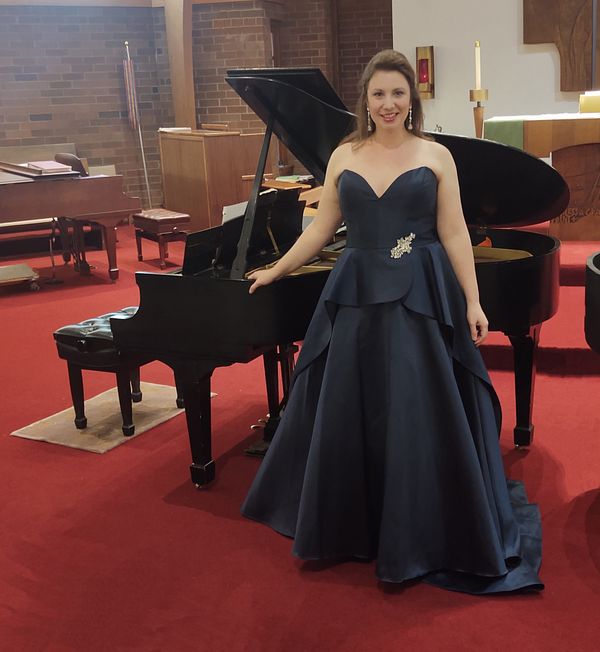 Raleigh, NC - Paul and Sophia play a Ukrainian Fall Rhapsody
Friday, October 13, 2023 at 7:00pm.  St. Philip Lutheran Church, 7304 Falls of Neuse Rd., Raleigh, NC 27615
Don't miss this spectacular evening of music!  Paul and Sophia play On the Beautiful Blue Danube; The Mephisto Waltz; and Rhapsody in Blue.  Admission is FREE.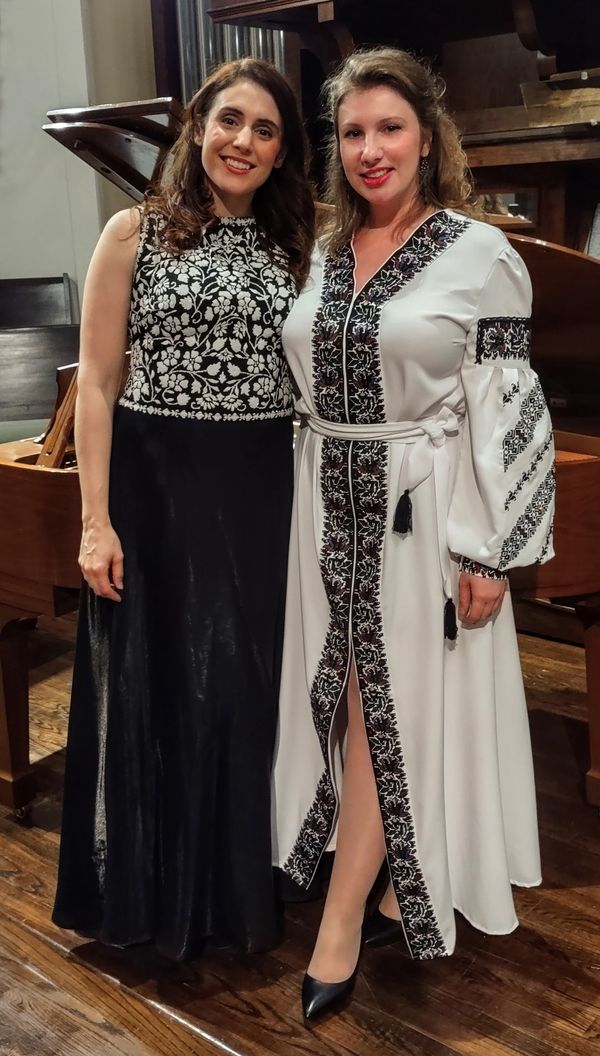 Sophia and Corey - The Songs of Mary
What a thrilling Concert Opener for the 2023-2024 Concert Season!  
 
 We launched our new season with the incomparable voice of nationally recognized soprano Corey Lovelace and our very own internationally recognized Composer in Residence and concert pianist Sophia Pavlenko.  This touring concert was the critically acclaimed Songs of Mary arriving in town from its last performance in Washington, DC. The evening hypnotically showcased songs written about Mary, the mother of Jesus, throughout the ages.  Spanning centuries of music, Corey and Sophia took us on a musical journey of discovery that explored Christ through the eyes and heart of Mary.   These two exquisite artists gave us a truly stunning performance.  All in attendance agreed that Sophia and Corey were absolutely mesmerizing this last Saturday night, October 7, at the Trinity Music Academy Season Opener in Troy, NC. 
TMA Concert Season Opener - Paul and Sophia play a Farewell to Summer.  
October 8 at 7:00.  Trinity Music Academy at Trinity Church - 239 N. Russell St., Troy, NC.  Tickets at the door. 
Paul and Sophia play an evening featuring thrilling music inspired by memories of summertime.  This concert contains Beethoven's Pastorale, Mendelssohn's Midsummer's Night, Strauss' Blue Danube and Tchaikovsky's 1st Piano Concerto. (The performance of this concerto is dedicated to the Ukrainian village of Trostianets where Tchaikovsky's first home was completely destroyed by the Russians. A very battered Trostianets is now proudly flying the Ukrainian flag once more!)
TMA Gala Concert - Songs of Sophia 
Saturday, October 23 at 7:00
Don't forget to join us tonight at 7:00 for the 2021 - 2022 season opening concert at the Trinity Music Academy. This is a Gala Concert of songs by Sophia Pavlenko, TMA's Composer in Residence. Tonight's performance includes excerpts from her new opera Wings of the Viking. The program features the exquisite voices of Corey Lovelace, soprano; Jeff Gwaltney, tenor; and the ever amazing John Fowler, tenor. The composer and star of the night, Sophia, is at the piano.
Go to this address    https://www.youtube.com/channel/UCXBIUx7DOlZk_88rp47XJuQ
or look under our Upcoming Performances heading and click the Virtual Live Event button. 
Paul and Sophia Americana - Rhapsody in Blue
Paul and Sophia play Gershwin's Rhapsody in Blue for the 4th of July.  Happy Birthday, America!
Click here for the video:   https://youtu.be/67mJc1Q2O5Y 
Paul and Sophia play Americana!
After one and a half years, Paul and Sophia are once again LIVE!  This concert is FREE to all.  No mask is needed if fully vaccinated. The concert is Friday, June 25 at 7:00pm at the Trinity Methodist Church located at 239 N. Russell St., Troy, NC 27371. 
Paul and Sophia play some of America's favorite music.  This program features Copland's Appalachian Spring and Rodeo;  two of Joplin's ragtimes;  Rodgers and Hammerstein's Sound of Music, Bernstein's America! along with other movie music;  two of John Sousa's most famous marches; and Gershwin's Rhapsody in Blue.  Join us for a concert that is as American as Baseball, Hot Dogs, and Apple Pie!
Paul and Sophia play a May Day Celebration
Don't forget to join us tonight - Saturday, April 24 at 7:00 pm (eastern standard time - USA) for our next show - a celebration of the great outdoors - Paul and Sophia's May Day Celebration.  Paul and Sophia play Beethoven's Pastoral Symphony; Mendelssohn's A Midsummer Night's Dream; Strauss' On the Beautiful, Blue Danube; and Dvorak's Slavonic Dance No. 8, Op. 46.  Happy Spring, everyone!  To get there, go back to Upcoming Performances above.  Scroll down to TMA - May Day Celebration with Paul and Sophia.  Left click on Virtual Live Event.  It'll take you right to where you need to be. See you there!